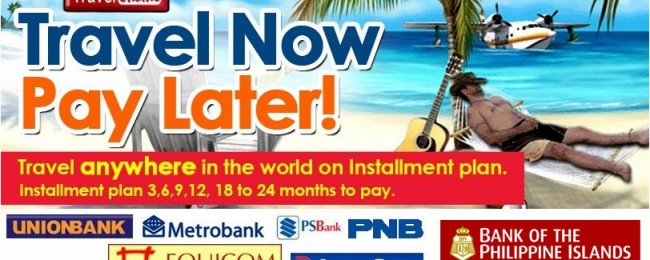 Fly Now Pay Later
Posted on 03/10/2014 by wam | 0 comments
Example Computation ONLY:  Per Person Cash price Php 1000 + 27.5% Fee for 24 months Installment = Php1,275 / 24 months = Php 53.125 per month will be charge on your credit card for 24 months.
Note:
– Valid for Allied , PNB , Metrobank, Union Bank, PSBANK & Equicom Bank credit card Holders only
– The Credit Card must be issued in the Philippines
– The Charge will be posted on your next Billing cycle
– Allied, Union Bank & PNB credit card payments will be process online . We will give you a form that you need to fill out . You need to sign it and send it back to us with a copy of your valid ID and credit card.
– Metrobank, PSBANK & Equicom Bank card holders must Physically swipe there credit card on our corporate office . Reservation must be done through customer service 1st before payment. Once reservation is finalyze our agent will set an appointment for you to visit our office to process your payment.
Corporate Office : Net Lima, 10-A @ The Net Metropolis, 5th Avenue corner 26th Street,E-square Crescent Park West Bonifacio Global City, Taguig Metro Manila 1634
Walk-ins are Welcome From Monday – Friday : 9am – 7pm
Saturday & Sunday : Appointment Only
NOTE before visiting our office : Building Policy for Visitors
Pls Bring valid ID & Wear proper attire – No Shorts, Sandals or slippers allowed
Call Center Office Hours: Philippine Time
Monday – Friday : 9am – 7pm
Saturday : 9am – 3pm
Sunday : Close
Email: sales@travelonline.ph
Skype User Name:   www.travelonline.ph
Call Center/ Reservation Hotlines:
(632) 467-8826        (632) 468-3944         (632) 467-9550         (632) 986-7809
(632) 512-2251        (632) 512-2253         (632) 512-2470         (632) 209-8051
(632) 666-4562        (632) 668-3824         (632) 668-3825
Cell Phone Sales Numbers
GLOBE:    0917 559 8096     &      0917 621 8096      &   0917 627 0645
SUN :       0922 801 7225     &      0932 884 4799      &   0922 873 2754
SMART:   0939 904 5140     &      0947 891 9676
VIBER :    0922 801 7225    
Fax Lines:
For Partner Hotels, Tour & Airlines Only : (632) 873 2753
For TravelOnline Customers/Clients Only  : (632) 857 2177    (632) 651 5901
Share